Not too long ago I started seeing out there in blog world voice level signs.
I pinned this one on Pinterest. It comes from http://mrsparkerssecondgrade.blogspot.com/. I decided though it was close to what I want for my classroom that it would be really cool to use the same scrapbook paper that I had used for my clip chart. See here. I think mine turned out really cute. I just wish I had thought to include pictures before I started. Most of my kids would be able to read it by the end of the year. But at the beginning? Not so much! Oh well … repetition, repetition, repetition. We'll see how it goes without the pictures and then maybe I'll fix it up again for next year. But for now it looks oh so cute.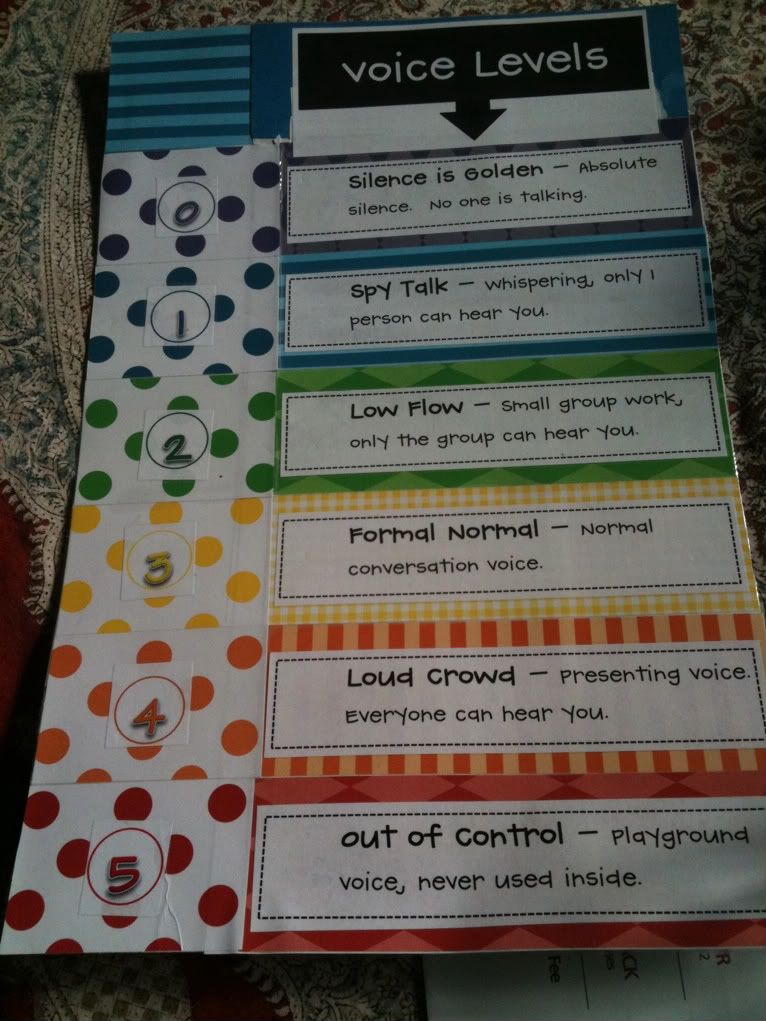 I used the same scrapbook paper as I did before from Hobby Lobby and used spray adhesive to glue them to a poster board. I then cut out the boxes with words that I created using Microsoft Word. I glued those as well as the numbered circles in place, laminated, & cut. And voila! If you would like a copy of the already made boxes and numbers post a comment and I'll send them your way.
I've also been thinking a lot about how I want to do book boxes for our Read to Self time during Daily 5 this year. In previous years I've used magazine file boxes but this year I repurposed those boxes into containers for my classroom library.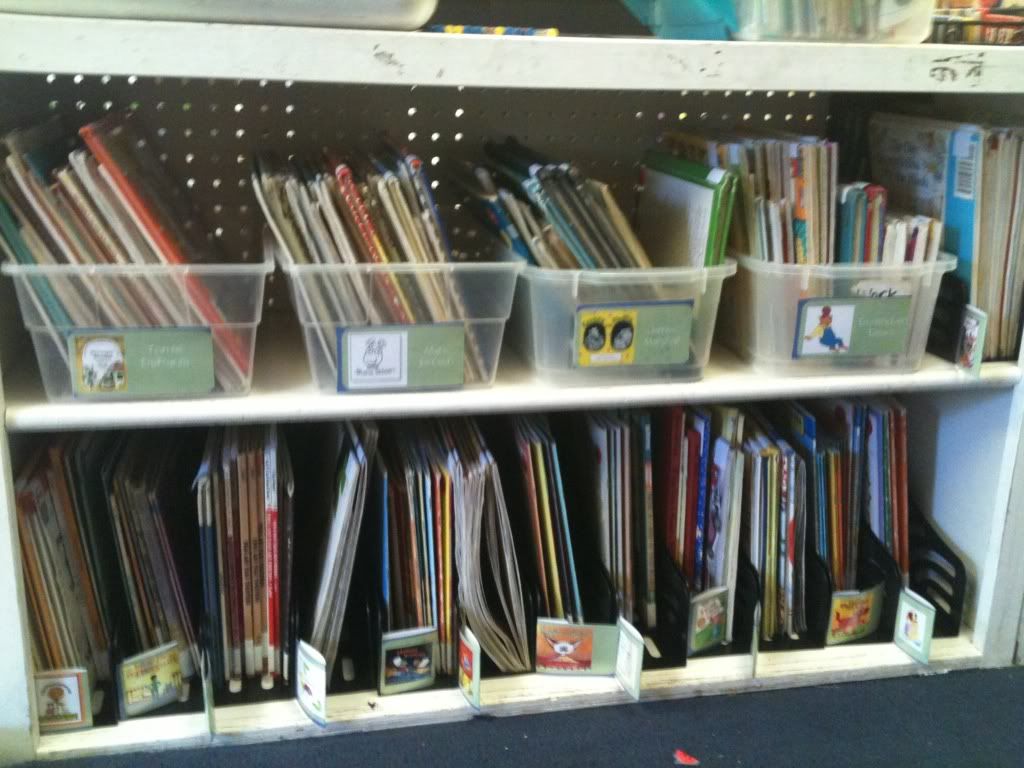 You can see in this picture that groupings of books that I have a lot are kept in larger bins while groupings of books that I don't have so much of are kept in magazine file boxes placed on their sides. This works well to manage lots of groups of books when they don't take up the space of a whole bin.
Anyhow … all that to say I'm not using the magazine file boxes any longer for book boxes. They also took up a lot of space in kids' cubbies. this year I will be giving my kids book bags to use. They can hang this on their cubbies along with their backpacks or place the bags up above in their cubbies if they need to.
In order to make this book bag I first found a picture to use. I bought the picture of the frog from scrappindoodles. I then copied the picture into the paint program on my computer. (I don't have any fancy programs on my computer.) Using paint I made a mirror image of the little froggy reading and then pasted it back into Word. I used word Art for the words and used the paint program again to make the mirror image. I was able to fit 3 of these to a page and then printed them out on Iron on Transfer paper. After printing these out I just trimmed around the picture and word art and then ironed them on the bags. Nothing to it. If anyone has any better ideas on how to reverse image words or pictures please let me know. I feel like there should be something easier but I just don't know what it is.