There are so many give aways out there right now.
Oceans of First Grade Fun
has reached 1,000 followers and to celebrate is giving away 10 of her TpT items from her store. Head over there for a chance to win.
Ladybug Teacher Files has also reached 1000 followers. To celebrate she is giving away 4 blog templates from her Ladybug Teacher Resources blog. Head over to Kristen's blog for a chance to win.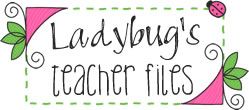 I've been seeing First Grade Owls around but hadn't yet hopped over to read any of her posts. Just became a follower though and look forward to read all of her ideas.
First Grade Owls
has just reached 100 followers and is celebrating by having a giveaway for one item from Mrs. Will's kindergarten TpT store as well as a gift card for $25 at Target. Hop on over to enter to win.