Kristen over at Ladybug Teacher Files is having a linky party to share ideas on using tables vs. desks in the classroom.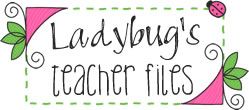 When I taught kindergarten a few years back I used tables. I used drawers to store their community supplies and they kept their individual things like journals and a folder in the back of a pocket seat cover thing my mom made for my classroom. I don't have many pictures from that year but you can see in this picture two of the three tables I had and the seat covers over the chairs. There was a bookshelf on against the wall between these two tables where I kept the small drawers of supplies.
I've been teaching first grade for the past two years. The first year I kept the same basic room arrangement as the previous first grade teacher and had desks. Our rooms are fairly narrow and there was only one way I could arrange the desks having 16 students. And there was not much room to move. I spent a lot of time that year teaching my kids how to keep their desks neat inside and it worked pretty well for most of them. Only the really messy kids had trouble.
This past year I decided to switch to tables and used the tables I could find within the building - which wasn't much. I now have a kidney table and a rectangle table in my room. It provides much more room to walk around and when I meet with my small groups I meet at the kidney table. Having a much smaller class size next year I'll probably move things around again, but I'm not quite sure how.
This year I had 16. Seven students were able to sit at the kidney table and six sat at the rectangle table. I also have a table that I placed at the back of the room for the math area. There are four stools up to this table and the remaining three kids sat at this table when doing their work. I originally planned on starting the year with kids choosing where they want to sit to work ... the whole less seats than kids theory, but I just couldn't get it to work. There were too many times I wanted everyone's eyes and the dimensions of the room made it difficult for this to happen. I might try again next year. This year I tried getting everyone's attention using a clapping pattern. Then they would repeat back to me. I'd like to try a
call and response activity
like Jenn Bates uses over at Finally in First. Having this in place I think would help if kids are more spread out through the room.
We use drawers for kids to store all the materials that would normally go in their desks. You can see them in the background of this picture.
For the past couple of years I have continued to have community supplies in a centrally located area of the room. I buy supplies at the beginning of the year with my classroom budget so in the past this has seemed the most natural way to handle them. However, I get frustrated by the lack of ownership kids feel over the supplies and therefore how much supplies get trashed. I would like students to have their own supplies next year which they must replenish by "buying" from me using their Balekbucks they earn by turning in homework and doing their class jobs.